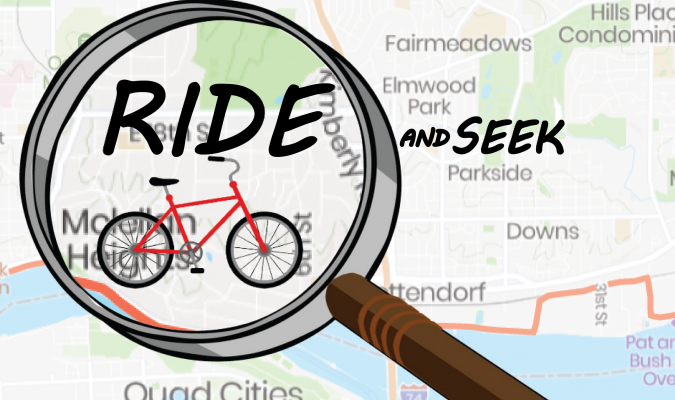 Ride and Seek! - Ride the River Scavenger Hunt 2020
A big thank you to everyone who participated in the event and helped make Ride and Seek a success! A link to the correct answers can be found HERE.
This year with the advent of the COVID-19 pandemic, we are rolling out a new summer event, Ride and Seek!
Participate on your own or with your household in an outdoor scavenger hunt adventure during social distancing! When you register for Ride and Seek you will be sent a packet including a route map, a clue sheet with 36 clues to solve, a River Action face mask, and chalk for adding some pictures or positive messages to the trails. Participants who solve the most clues during the month of June will be entered to win excellent prizes!
River Action has planned this event so that our participants can get some outdoor exercise without having to worry about the crowds that can occur during a conventional Ride the River. Please maintain recommended social distancing guidelines during the event.
In Your Packet
River Action Face covering
Sidewalk chalk for leaving positive messages
Historic map with 36 Discover History Clues
Reflective snap bands for kids courtesy of Davenport Noon Kiwanis
Packets sent via US Mail.
T-Shirts
Ride and Seek tee shirts are available with your registration for $10. An option is available for you to have your shirt mailed to you on your registration for an additional $5, otherwise they will be available for pick up at the River Action office at 822 E River Drive Davenport, IA 52803. The shirts will be printed at the conclusion of the event and will be mailed or ready for pick up July 1.
If you want a Ride and Seek shirt but don't have time to do the scavenger hunt you can purchase a shirt for mailing or pickup on our website at the links below.
Shirt for Pick UpShirt by Mail



Helmets are available for purchase at the River Action office for $10 each!
Register now for your chance to win great prizes including Apple iPods and a Keen Stage road bike!
Friends of Ride the River
Consider joining Friends of Ride the River where your tax-deductible donation of $50 or more ($100 for businesses) helps ensure the vitality of this community event for years to come. Just mark this option on the registration form. Friends are recognized in a special listing on the ride map. You can also become a friend online by clicking the link below.