eddy Magazine
eddy Magazine is published quarterly for River Action, Inc. members and focuses on life, development and culture on the Mississippi River in the greater Quad Cities area.
For a media kit with publication schedule, ad sizes, pricing and circulation information, CLICK HERE.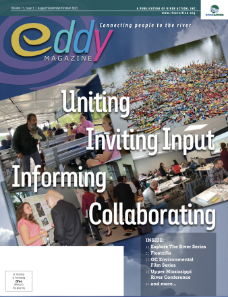 CLICK HERE to view the most recent issue of eddy Magazine. We hope you enjoy the articles and beautiful pictures.
Be sure to let our advertisers know you saw their ad in eddy Magazine and tell them you appreciate their support of River Action.
To receive a hardcopy of eddy Magazine by becoming a member of River Action, CLICK HERE.