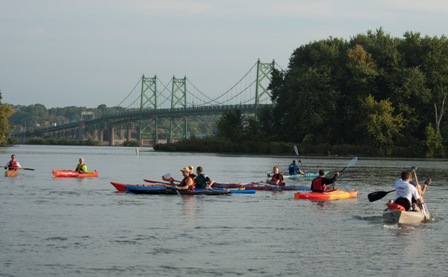 Photo by Stephanie Makosky courtesy of Moline Dispatch Publishing Co.
Beginner Trips
There's a lot of great water for beginning paddlers in the QCs. The QCWT has 5 sloughs of calm backwater [LeClaire Canal, Campbell's Island Slough, Sylvan Slough, Credit Island Slough, and Andalusia Slough] ideal for those less experienced. Here are some suggested trips (launch sites identified by number on the QCWT map):
Sylvan Slough Trail is a wonderful backwater of the Mississippi River. The urban environment gives way to natural surroundings including lily pads and numerous water fowl. The current is slow and allows for a relaxing round-trip paddle. Put-in: Sylvan Slough Docks (12) Take-out: Same; Distance – 2 miles; Paddle time – about 1.5 hours.
Middle Rock River Trail is a safe place to practice your canoe or kayak paddling. The scenery is generally urban with many cabins along both sides of the river. Pleasure boaters and jet-skiers like to use the Rock River but traffic is low during the week. Put-in: Greenvalley Public Access (21) Take-out: Harold's Landing (20); Distance – 2.5 miles; Paddle time – about 1 hour.
Intermediate Trips
Upper Mississippi River Trail is a casual upstream trip along the shoreline of the Mississippi River has moderate current. Exceptional views of the river to Princeton Beach, where paddlers can stop for a picnic and swim. Rentals available at Princeton Outdoor Adventures. Put-in: Princeton Boat Ramp (1) Take-out: Same; Distance – 3 miles; Paddle time – about 2 hours.
Middle Mississippi River Trail travels along the Iowa shoreline from Lock and Dam 14 Boat Ramp to the Eagles Landing Boat Ramp. This paddle offers great views of the Iowa and Illinois shorelines. Stop at Pigeon Creek Park for a nice hike and picnic. Put-in: Lock & Dam 14 Boat Ramp (6) Take-out: Eagles Landing (8); Distance – 2.5 miles; Paddle time – about 1 hour.
Lower Rock River Trail paddle is a short distance down the Mississippi to the Rock River. The current up the Rock is generally low to moderate if the shoreline route is taken. Circumnavigate Turkey Island to see a wide variety of wildlife in this remote area. Put-in: Sunset Park (15) Take-out: Same; Distance – 5 miles; Paddle time – 3 to 4 hours.
Advanced Trips
Upper Mississippi River Trail (Involves a river crossing with strong current possible.) – Travel the Iowa shoreline from LeClaire briefy before crossing to Illinois to portage at Fisherman's Corner (P1). Finish at the Eagles Landing Boat Ramp in Iowa or stick to the Illinois shoreline until Empire Park. This paddle offers great views of the Iowa and Illinois valley particularly during the fall with the changing color of tree foliage. Put-in: LeClaire Boat Ramp (4) Take-out: Eagles Landing (8); Distance – 6 miles; Paddle time – about 3 hours.
Middle Mississippi River Trail (Involves a river crossing with strong current possible.) – Urban paddling at its best. Put in at Eagles Landing and cross to follow Campbell's Island to the Illinois shoreline. Travel downstream along the Ben Butterworth Parkway to Sylvan Slough. Great mix of natural and urban landscapes. Put-in: Eagles Landing (8) Take-out: Sylvan Slough (12); Distance – 5 miles; Paddle time – about 3 hours.
Lower Mississippi River Trail (Involves a river crossing with strong current possible.) – Check out the great views of the Mississippi on this trip. After putting in at Credit Island, you'll need to choose a safe crossing to the Illinois shoreline. Enjoy the beautiful backwaters of the Andalusia Slough. Continue the trip to Loud Thunder Campground for an extended paddle. Put-in: Credit Island (16) Take-out: Andalusia (17); Distance – 7 miles; Paddle time – 3 to 4 hours.

History, background on Mississippi and Rock Rivers

The Mississippi River is arguably the most important waterway in the United States. Throughout its history, whether for Native Americans, explorers, or modern commerce, the Mississippi has always been a major navigation route through the center of North America. It is 2,320 miles long and has the third largest catchment basin in the world collecting water from 1.25 million square miles.

The 285-mile long Rock River flows through southern Wisconsin and northern Illinois before emptying into the Mississippi River in Rock Island. The Rock is a long-time source of paddle recreation, pleasure boating and fishing. It supports hundreds of species of wildlife vital to the Midwestern ecosystem.

The Mississippi and Rock Rivers support over 400 different species of wildlife. The river ecosystem features approximately 40 percent of North America's migratory waterfowl and about 20 percent of the nation's duck population.

The main types of migratory birds include: Black, Wood, Mallard, Teal, Widgeon, Pintail and Ring-necked ducks, Canada Geese, swans, American White Pelicans and many types of songbirds. We are also home to one of the most magnificent birds in the world, the great bald eagle. Eagles are very plentiful along the shores of the upper Mississippi.

The river also provides a home to many different fish and other types of animals. Over 100 different species of freshwater fish can be found in the Mississippi including:
catfish, walleye, bass, northern, sunfish, and crappie. The many different types of fish found in the great river allow for some of the best fishing in the entire world. The Mississippi River can be fished year round, which allows one to enjoy the sport and all of the magnificence that each season in the upper valley has to offer.

Canoe or kayak fishing can be a great way to catch dinner or a fun recreational activity. Iowa or Illinois fishing licenses can be used by hook-and-line anglers on the
Mississippi River. For more info go to the Iowa or Illinois Department of Natural Resources web sites.

Safety and River Traffic

Common Sense Paddling Safety Tips

Wear your life jacket
Be prepared to swim
Never boat alone
If you collide with an obstruction, lean toward it
File a float plan with a relative or friend
Paddle within your experience and fitness levels
Confine your first outings to calm backwater areas
Consider taking a paddling safety course
Be familiar with capsize recovery techniques
Always check weather forecasts and river conditions
before setting out
Paddle in groups whenever possible and know the
experience levels of those in the group

Water Safety

Safety is critical when paddling the Mississippi or Rock Rivers. Be sure to monitor water conditions before starting your trip.

Be sure to check current conditions at Locks & Dams 14 and Locks & Dams 15.

Be aware of:

High water and floods – High water travels swiftly and carries much debris
Cold water – Mississippi waters are the first to cool off and last to warm up
River traffic – Stay out of the main channel (designated by green and red buoys) and be aware of traffic when crossing the river
Dams – Stay well clear of dams and utilize designated portage areas

River Traffic

At first sighting, a tow heading in your direction is usually two or three miles away. At that distance, you still have 20 to 30 minutes to relocate to a more comfortable location on the river. Being aware of traffic on the river is always important, but it should never prevent you from safely paddling the Mississippi. Always steer clear of the main channel and industrial areas.

Locking through on Mississippi River

Locking Rules for Advanced Paddlers

The Mississippi River is a great place to paddle but you need to recognize your limits. Locking through is a maneuver that should only be attempted by experienced paddlers. Portage sites are available to bypass each of the dams on the Quad Cities Water Trails.

There is no fee for locking through
Stay out of posted/restricted areas
Stay in your boat when locking through
Inform lockmaster that you want to lock through by pulling the small boat signal chain located at the end of the wall or call lock on marine radio (Channel 14)
Enter the lock when the gates are fully open and you receive the green signal light to enter
All vessels are required to hold a line (hanging from the lock wall) or tie off on the side of a vessel, holding on to the line
One short signal blast designates that lockage is complete, and you may exit the lock

For more information check out the U.S. Army Corps of Engineers' web page on lock safety.

Other trail connections

There's a lot of paddling to be done in the Midwest. Here are some links for other trails that are well worth the trip:





Check out our QC RiverWay Bike Trails

The Quad Cities area has some of the best bike trails in the region. Whether you're a road biker or like it a little more rugged and dirty, you'll be more than happy you brought your bike too:

And, don't forget the Channel Cat Water Taxi

The Quad Cities features a water taxi service – Channel Cat Water Taxi – that operates just upstream of Lock & Dam 15. It's a fun and interesting way to move between the downtowns of the Iowa and Illinois Quad Cities. Each boat has bike racks to accommodate cyclists. For more information check out the Channel Cat web site.