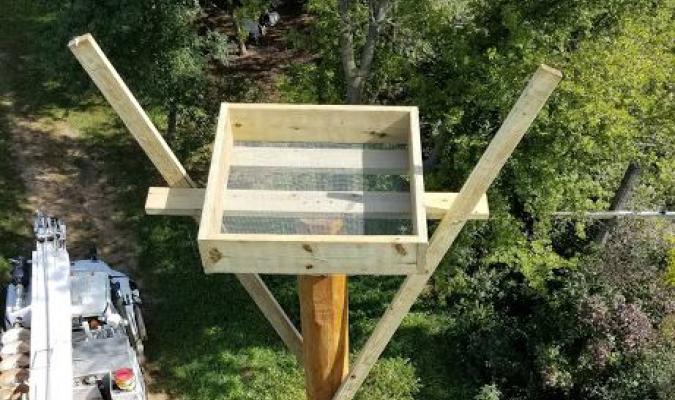 River Action partners with SCRA, Eldridge and MidAmerican to lure ospreys to QC area
River Action has partnered with the Scott County Regional Authority (SCRA), the City of Eldridge and MidAmerican Energy to install four osprey platforms in Scott County.
The four locations are Nahant Marsh, Lost Grove Lake, West Lake Park and Credit Island, Davenport. The osprey platforms were installed by MidAmerican Energy in late 2018 to increase habitat for the osprey.
The osprey, also called sea hawk, river hawk, and fish hawk, is a fish-eating bird of prey. Ospreys have reversible talons, a six-foot wingspan, and can dive into water at about 40 mph to catch fish up to three feet below the surface. They are the second most widely distributed raptor species, after the peregrine falcon, in the country.
Although common in the U.S., the osprey is not normally found in the Quad City region. The breeding distribution of the species is farther north so it is a rarity to catch a glimpse of an osprey during nesting season or while they are migrating to South America. More recently, ospreys have been sighted in the area more frequently, prompting River Action to install osprey platforms in Scott County in hopes of creating a nesting population in the area.
With funding support from Scott County Regional Authority, River Action constructed the four osprey platforms as a part of "Ride The River: Island Adventure on Credit Island" in June of 2018. Local carpenters helped families build the 3-foot-square wooden boxes.
The platforms were installed on utility poles donated by the City of Eldridge, Iowa. MidAmerican Energy donated time and labor to install the platforms at Nahant Marsh, Lost Grove Lake, West Lake Park, and Credit Island.
Placement of nest structures improves the chances ospreys will nest in the area. It is important to have the nests located close to water so the birds have easy access to a food supply.
Ospreys mate for life, similar to bald eagles, and they return to the same area as the prior year. Young birds usually return to breed near where they were born. Because of recent sightings of osprey, it is important to have tall, safe structures for them to return. The platforms can be utilized by other species of birds, if not by the osprey.
In March 2017, Eagle Scout Ross Chapman installed a similar osprey platform at the Quad City Conservation Alliance property in East Moline, and the City of Moline also installed a platform in the Green Valley Nature Preserve near the Rock River. The osprey is listed as an endangered species in Illinois, which means it's at risk of disappearing as a breeding species.
A few ospreys remain in the Quad City to mate and the population of the raptor species has been growing over the years. With installation of additional safe habitats in our area, the hope is more ospreys will be seen during breeding season.